Angela Merkel 'blocks' EU plan on limiting emissions from new cars
EC abandons vote on making cars more fuel efficient after intervention of German chancellor, supported by David Cameron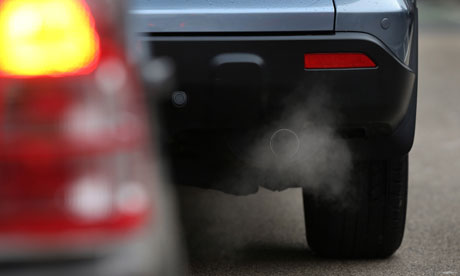 Policy to make car manufacturers adhere to stricter standards on levels of carbon emissions was agreed by 27 EU member states. Photograph: Peter Macdiarmid/Getty Images
German chancellor Angela Merkel personally thwarted plans this week to improve the fuel efficiency of European cars, in order to protect luxury marques including BMW, Audi and Daimler. Supporters of the policy, which had been agreed by officials from the 27 EU nations, say it would save motorists in the UK £400 a year in fuel costs.
David Cameron helped Merkel block the plan to limit emissions from new cars sold in 2020, despite his own department of transport being in favour. The plan had been expected to be rubber stamped by national leaders at the quarterly European council meeting on Thursday, but was dropped from the agenda after Merkel telephoned other leaders to lobby them.
The policy would see new European cars required to emit no more on average than 95grammes of carbon dioxide per kilometre by 2020. The current target of 120gCO2/km by 2015 will be easily met as manufacturers meet increasing consumer demand for fuel efficient vehicles.
"Merkel's unilateral attempt to try and stop the car CO2 deal is undemocratic and unwelcome," said Matthias Groote, German MEP from the opposition SPD party and chair of the European parliament environment committee. He said Merkel's personal interventions, including a call to the Enda Kenny taiseoch of Ireland which currently holds the EU presidency, had caused "chaos" and added he had not seen such "brazen behaviour" in seven years in the European parliament.
Merkel faces national elections in Germany in September and some observers said her block was aimed at shifting a policy unpopular with Germany's powerful car makers until after the vote while others suggested Germany would use the postponement to recruit enough member states to water down the efficiency plans. No new date has been set for the policy to be approved.
The European Automobile Manufacturers' Association, which represents the biggest car companies, opposes the plan as expensive. Ivan Hodac, ACEA secretary general, said some of the proposals "will clearly put us at a strong disadvantage on the global market".
But not all manufacturers welcomed the abandoned vote. "As a company committed to meaningful CO2 emission reductions through advanced technology, Ford is disappointed," said a company spokesman. "We will now have to regroup within the industry to determine the next steps."
Monique Goyens, director-general of BEUC – the European Consumer Organisation, said: "It's consumers who will pay the price for this last-minute scuppering of the deal on car CO2 emissions. This last-minute intervention at the highest political level is a clear case of the concerns of a handful of companies taking precedence over consumers' interests."
Environmental campaigners also criticised Merkel's actions. "This new delay means Merkel can mount another assault on the draft CO2 standards we've fought for – and keep polluting cars on the roads for longer," said a Greenpeace spokeswoman. "And yet we all know carmakers are capable of innovating to meet these targets – VW has shown that."
Greg Archer of Transport and Environment said: "It's unprecedented in EU environmental policymaking that the pressure of one country delays a vote in an attempt to overturn a fairly-negotiated agreement between the European parliament, the commission and the council itself. It is ludicrous for Germany to claim it needs more time, as the 95g target was agreed five years ago and Germany has already put forward five different proposals that have been rejected by the vast majority of EU countries."
German car makers produce a fleet with emissions 15gCO2/km above the current 132gCO2/km European average, according to the International Council on Clean Transportation, while France's Peugot and Italy's Fiat sell smaller cars with lower emissions.