Is regulation the right road for the sharing economy?
As collaborative business takes off, regulators are looking to take a piece of the pie but the sharing economy will always rest on trust not regulation, writes Oliver Balch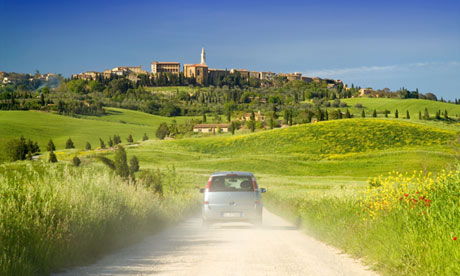 Is the sharing economy heading for tighter regulation? Car sharing is one type of collaborative business where lift sharing services connect passengers with car owners travelling to the same destination. Photograph: Rod Edwards/Alamy
You're heading to Berlin. It's a short city-break, so no business hotel. You fancy getting off the beaten track, but where to stay? No problem: just log on and browse the listings. From Airbnb and VRBO to Love Home Swap and HouseTrip, there's been an explosion in peer-to-peer rental services over recent years. "Sunny Studio in Prenzlauer Berg, £42 per night". Click, book, sorted.
Only, now the regulator wants in on the game. Berlin's lawmakers are currently weighing up a bill that would outlaw short-term rentals, which are blamed for pushing up living costs. New York is one step ahead. Recent rule changes ban residents from renting rooms for less than 30 days. This 'illegal hotels law' gained prominence in May when an Airbnb host was fined $2,400 for renting out his extra room to a Russian visitor.
The eye of the regulator is homing in on other areas of the so-called 'sharing economy' too. In the UK, for instance, the Financial Services Authority (FSA) is currently looking to set rules for peer-to-peer lenders such as Zopa, Funding Circle and RateSetter. Job outsourcing outfits such as TaskRabbit are gaining the attention of labour regulators as well.
'Collaborative businesses' (as they are also know) have enjoyed a relatively easy ride from lawmakers so far. The fleet-of-foot entrepreneurs who are driving the sector insist this is helping them to experiment, to innovate and, ultimately, to grow. That could be about to change.
Regulatory radar
Why the regulators' sudden interest? Three main reasons. First is scale. The rule enforcers are beginning to twig just how big the collaborative marketplace is becoming.
Ryan Levitt, PR director at online holiday rental service HouseTrip, recalls how owners of holiday flats used to post ads in their local supermarket. "This [the sharing economy] isn't new … but it's exploded. It's no longer the supermarket wall anymore. It has global reach", he observes.
Rhydian Lewis, chief executive of RateSetter, concurs. In January 2012, his industry approached the FSA to discuss setting up a potential regulatory framework. The financial regulator wasn't interested, he explains: "They said we were too small." RateSetter is now issuing 8m new loans every month. "Now they've seen the growth and say, 'yes, we do think it needs to be regulated."
Another reason is cash. As collaborative start-ups begin to monetise, governments smell taxable revenue. It all boils down to money for the public purse, argues HouseTrip's Levitt. ."
Last but not least, there's the consumer to consider. Peer-to-peer platforms essentially provide a means for people to exchange services between themselves. But what if the Prenzlauer Berg's studio turns out to be infested with cockroaches? Their contractual standing may be fragile, but consumers still need an element of legal protection, regulators say.
"Politicians are terrified of weakening the existing bricks and mortar-type regulation in a way that allows cowboys or fraudsters …to get at consumers currently protected by regulation", notes Kevin Barrow, a partner at law firm Osbourne Clarke.
It's not just consumers either. The freewheeling nature of peer-to-peer transactions mean the provider is often as exposed as the consumer. Back to the Prenzlauer Berg studio: what if the guest smashes the window? Suddenly the sharing economy looks slightly less sunny.
Reticence for rules
The industry's response is predictably cautious. Like the typical go-getting entrepreneurs that they are, none want burdensome regulation.
The real purists in the movement argue that true collaborative firms operate primarily through bartering and exchange, with little or no money passing hands. In short, there's not a whole lot to tax.
A good example is BlaBla. The lift-sharing service connects private car owners with passengers who are travelling to the same destination. The passenger gives money towards the fuel costs, but no profit is generated.
"The government is saying, 'we want a share of the cake', but there is no cake. It's just that passengers and drivers are helping each other with the cake", explains Vivian Schick, BlaBla's head of community.
Regarding consumer protection, industry leaders maintain that a combination of verification and reviews weed out the worst examples of poor service and malpractice.
Take the house exchange service Love Home Swap. All users have to provide a range of personal data, which is then independently verified. Internet-based video messaging service Skype is also embedded within the company's website, so participants can "look into the whites of each other's eyes" before agreeing to any transaction.
Reviews play a similar role. The success or failure of collaborative businesses revolves around endorsements from users. That goes for negative reviews too, says HouseTrip's Levitt. "It has to stay up there otherwise you completely lose the trust of users", he says, adding that people must have stayed in the property to review it (unlike with TripAdviser).
He admits that the process isn't "fail safe". Consumers are naturally quicker to complain rather than compliment, for example. Furthermore, some review systems are "riddled with gaming", he notes. The Prenzlauer Berg studio might have been great in reality, for instance, but the renter could post a bad review to prompt a price reduction.
A final argument against regulatory interference centres on market entrance. The beauty of online collaborative marketplaces is that they cost very little to set up. Peer-to-peer lenders probably need the most up-front investment, largely due to the loan guarantees required. RateSetter's Lewis puts the figure at around £1m. That's peanuts compared to a traditional bank, where a typical guarantee is likely to be closer to, say, £1bn. Changing the rules could shrink this "seismic" difference, he fears.
The trust test
Not all disagree that regulation is a necessarily bad thing. Many collaborative companies are currently operating in legal grey zones. "Internet-age businesses in bricks-and-mortar regulation" is how John Davidson-Kelly, a commercial partner with Osbourne Clarke, puts it. Potentially, this could leave their businesses caught unintentionally, but harmfully, within an existing law.
Davidson-Kelly's is for collaborative start-ups to engage early with regulators to design appropriate rules and frameworks now, as the market is taking shape. That's precisely the tack being adopted by the peer-to-peer lending sector. The Peer-to-Peer Finance Association, the sector's nascent trade body, has proposed an eight-point framework, with requirements such as having provisions for bankruptcy.
In the final analysis, the sharing economy rests on trust. Regulation can help, but it'll never be the whole answer. The formula for winning real trust, according to Lewis, is in fact far simpler: "Say what you're going to do, and then do it." That's beyond any regulator, however savvy.
This content is brought to you by Guardian Professional. Become GSB member to get more stories like this direct to your inbox