Keep our coal in the ground
If coal extraction developments are to go ahead in Queensland, we are dooming ourselves to a world no one wants to see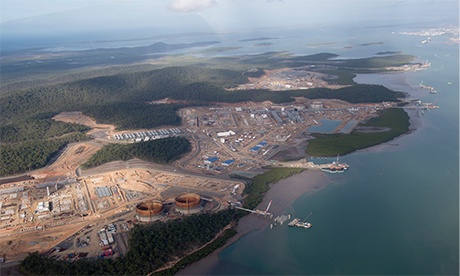 I'm instantly stuck by the contrast. On one side, the landscape is beautiful. A river winds its way towards the ocean, until it hits a few islands sitting on the coast. Mangroves cling to the water edge. Beyond the initial line of trees, the landscape is bare – dark brown and red soils radiating in the sun.
The other side is very different. Amongst the beauty, humans have wreaked havoc. We can see factories, gas plants and piles of coal getting ready to be shipped out. On the ocean I can count around 20 ships, sitting, waiting to be loaded up with their cargo. The harbour is being dredged so more ships can enter its waters.
I have traveled with US climate activist Bill McKibben and Greens senator Larissa Waters to the town of Gladstone to visit the frontline of Australia's coal expansion. We took a charter plane to fly over the developments, and I interviewed McKibben and Waters as part of the trip. McKibben said that he was struck by what he saw: "I thought it was remarkable to see one of the relatively few spots in the world where the great carbon conveyor belt has its beginning."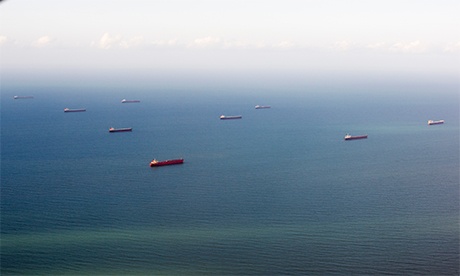 The Gladstone and Fitzroy Delta port area already comprises of two ports, with three more proposed/under construction (a fourth was recently dumped by Xstrata). The port area already handles approximately 50 million tonnes of coal each year. The new developments could increase that number by approximately 28.3 million tonnes. McKibben says that is simply too much for the climate to bear:
"There's just six or seven places around the world that have such great concentrations of carbon. This part of Australia, the tar sands of Canada, the Powder River basin of the US. Unless we can keep that carbon in the ground there is very little chance of arresting climate change."
The last year in climate science has been nothing short of terrifying. In Australia, we saw our "angry summer". Records were smashed and floods and fires ravaged the country. But what has been worse has been the reports coming out from some of our more conservative institutions; ones like The World Bank and the International Energy Agency, saying that we are heading for a world of four degrees warming or more. Far too much for a safe climate.
The maths – as highlighted by McKibben – has become clear. The science shows that we can only emit globally 565 gigatons more of CO2 to stay at or below two degrees of global warming – a target agreed by pretty much every government in the world. The known carbon reserves in Australia make up 30% of that number.
Thinking about those numbers as I flew over Gladstone, one thing became obvious. Even though we have implemented a carbon price, Australia is not doing enough to halt climate change. Our leaders, and our fossil fuel companies, are addicted to coal, and in doing so are playing an oversized role in warming our planet. Waters agrees. She told me that we can't let most of the proposed developments go ahead:
"If the world is to stay below two degrees we only have a certain budget left, a carbon budget if you like. And if all of the proposed, enormous coal mines that are planned for the Galilee basin – if they were to go ahead, that one basin would comprise 6% of the world's burnable carbon to stay below two degrees warming. That is a sheer amount that simply must stay in the ground."
Waters argued that despite agreeing to the target, the Australian government is not doing enough:
"Under the current environment minister, and in fact all previous environment ministers, no coal mine has ever been rejected in Queensland and to my knowledge in Australia. Under our current environmental laws there has never been a refusal of a fossil fuel project in our history. And that's saying an awful lot."
This is the reality we now must face up to. Global warming is here. If developments like Gladstone and the Galilee Basin go ahead, we are dooming ourselves to a world of four degrees of warming – a world no one wants to see.
If we are serious about leaving a safe world for our future generations there is only one course of action – leave our coal in the ground.