to me
Dear NEVILLE,
Last week was a new low for gender equality in Australia.
What started with sexist remarks from the Socceroos coach about the need for "women to shut up in public," ended with a radio shock jock's offensive line of questioning about the legitimacy of the Prime Minister's relationship with her partner.
In between, we witnessed: "the menu," the Australian Defence Force email scandal, and of course – accusations of playing the "gender card". In response to these shameful events, thousands of GetUp members created their own gender cards, highlighting many of the issues women still face today.
You can help make their voices heard by chipping in to run this powerful ad in papers around the country: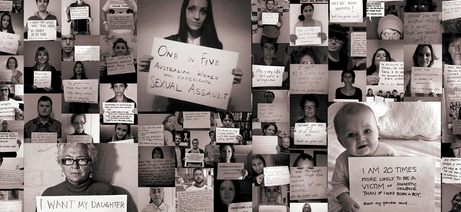 Click the above image to view the ad
Here are some of our favourite gender cards (spoiler alert – one comes from a seriously adorable baby!):
Australian women earn 17.5% less than their male co-workers
Only 3% of ASX200 companies have a female CEO
Women are 20 times more likely to be a victim of domestic violence than men
Australian women will retire on a third less superannuation than men
Women aged over 60 are the fastest growing demogaphic in homelessness
Statistics like these aren't anomalies, they are evidence of an imbalance in representation and power. While women comprise 51% of our population, they still get paid less, take on more unpaid work, are disproportionately the victims of violent crime, and are far less represented in positions of power.
By reducing gender inequality we all stand to gain. Closing the gender pay gap by just one percentage point would boost Australia's GDP by $5.4 billion, closing the gap completely would increase GDP by $93 billion.
Let's make sure women's voices are not silenced by those who don't want progress on gender equality. Chip in to help get this ad in the national press:
www.getup.org.au/play-the-gender-card
Luckily, GetUp members are not easily intimidated by attempts to shout down women who speak up on barriers to equality with accusations of "playing the gender card."
We'll continue to speak up until women are no longer victims of physical and sexual violence, where differences in pay aren't determined by gender, and where having women in positions of power is the norm, not the exception.
Until then, keep proudly waving your gender card,
the GetUp team
---
GetUp is an independent, not-for-profit community campaigning group. We use new technology to empower Australians to have their say on important national issues. We receive no political party or government funding, and every campaign we run is entirely supported by voluntary donations. If you'd like to contribute to help fund GetUp's work, please donate now! If you have trouble with any links in this email, please go directly to www.getup.org.au. To unsubscribe from GetUp, please click here. Authorised by Sam Mclean, Level 2, 104 Commonwealth Street, Surry Hills NSW 2010.