Bottled water bumps up parliament's carbon footprint
A report commissioned by Commons authorities into the Houses of Parliament's use of bottled water found that it uses over 21,000 bottles of water each year, resulting in a carbon footprint of 12 tonnes. From BusinessGreen.com, part of the Guardian Environment Network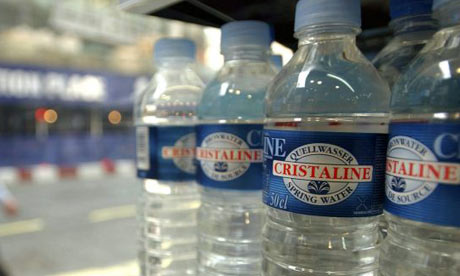 A report commissioned by Commons authorities into the Houses of Parliament's use of bottled water found that it uses over 21,000 bottles of water each year, resulting in a carbon footprint of 12 tonnes.
---
The study, carried out by environmental consultants Best Foot Forward, was not published but was leaked to the Evening Standard.
It revealed that each year 10,000 bottles of sparkling and 11,400 bottles of still water are used in Parliament, while the associated delivery lorries have clocked up more than 70,000 miles over five years.
A blog posting by Best Foot Forward confirmed the findings of the report.
"The study, which quantifies the life cycle emissions of several different options, found that bottled water performed the worst – and that savings of 11tCO2 per year were possible through a switch to tap water," it said.
However, the Commons Administration Committee controversially decided last year that it would offer only bottled water in meetings.
The revelations will be especially damaging to MPs, some of whom have campaigned against bottled water.
Last year, government minister Phil Woolas told the BBC that consumers should switch from bottled to tap water whereever possible. "It borders on morally being unacceptable to spend hundreds of millions of pounds on bottled water when we have pure drinking water, when at the same time one of the crises that is facing the world is the supply of water," he said.
US studies have found the total energy required for bottled water production was as much as 2,000 times the energy cost of producing tap water.
• This article was shared by our content partner BusinessGreen.com, part of the Guardian Environment Network