The drought is effecting dams across the country, which means power's down for hydro dams.

This is what the newspapers have been reporting this week
Snowy Hydro signals tight rein to conserve water
The largest lake in the Snowy Hydro scheme, Lake Eucumbene, has dropped to its lowest level ever and is less than 20 per cent full, reported The Canberra Times (10/2/2007, p. 5).
36m below capacity: The water level, now 36m below full, could drop another 2m if drought conditions do not ease by the end of April. The artificial lake was flooded in 1958 as part of the Snowy Hydro scheme and is at its lowest level since construction.
Inflows down 25pc: Snowy Hydro said this week inflows were down to 25 per cent of historical averages. Worse still, in the past four months the inflows were "significantly below" previous minimums for corresponding months over the previous century.
Need for "balance" noted: "With no forecast improvement to water inflows in the foreseeable future, Snowy Hydro must act prudently to ensure that the water that remains in the Snowy Scheme is used in a balanced way for all stakeholders and that water is conserved for this summer and coming winter," the company said in a statement.
ACT storages at 35pc: This comes as water storage in the ACT continue to decline, with levels recorded at 35.36 per cent on 9 February. Corin Dam has dropped the most dramatically in the past year – it was more than 80 per cent full this time last year and is now below 20 per cent capacity. Actew has said inflows into dams last year were 90 per cent below average.
The Canberra Times, 10/2/2007, p. 5
Source: Erisk Net
A hydro electricity plant
Tassie's drought impacts on hydro electricity
Tasmania's Great Lake has fallen to just 15.7 per cent of capacity and Hydro Tasmania storages overall have fallen to 27.4 per cent, says The Mercury (9/2/07, p. 1).
Cost of Basslink imports: Dry conditions have already cost Hydro a huge amount of money as it imports substantial amounts of power via Basslink. Hydro Tasmania energy and market analysis manager Michael Connarty said the reduction in generation from the 300-megawatt Poatina station would mean further imports to make up the shortfall of energy. We will continue to import fairly heavily over Basslink if the dry conditions continue. Our net import of electricity has been just over 1000 gigawatt hours to the end of January."
Big imports imbalance: Dr Connarty said 1400 gigawatt hours had been imported compared with the export of 400 gigawatt hours. He said imported electricity cost between $20 and $30 a megawatt while exports could fetch up to $1000 a megawatt.
The Mercury, 9/2/2007, p. 1
Source: Erisk Net
Part of a hydro electric dam
Rudd won't support Beattie's new dams
Federal Opposition Leader Kevin Rudd had moved to secure Green preferences in Queensland ahead of this year's election by his refusal to endorse the Beattie Labor government's plans to build two new dams in the south-east corner of the state, according to Mark Ludlow writing in The Australian Financial Review (09/02/2007, p.10).
A tactical move: In a tactic that could threaten his relationship with state Labor colleagues in his home state, Mr Rudd repeatedly failed to support the controversial $1.7 billion Traveston Dam in the Sunshine Coast hinterland. Mr Rudd, who was chief of staff to former Labor premier Wayne Goss when he scrapped the Wolfdene Dam before the 1989 state election, had also baulked at giving in-principle support to building dams as a solution to the nation's water problems.
According to The Australian Financial Review , senior ALP sources believed that Mr Rudd – who grew up in Nambour on the Sunshine Coast – was being cautious not to alienate the green vote in.
Rudd targets green votes: Queensland, especially in the populous south-cast corner, where Labor needs to boost its electoral representation. Mr Beattie's controversial plan to build two dams, including the Traveston Dam on the Sunshine Coast and the $500 million Wyaralong Dam on the Gold Coast, had met strong local opposition, which continued despite the state government's go-ahead to the projects.
AFR quoted a party insider: "It's not just the Sunshine Coast, it's the whole south-east corner. He (Mr. Rudd), doesn't want to look like he's got anything to do with it, so the backlash doesn't come back on him. The green voters are going to be feral about it and we need every Green preference we can get. In key Brisbane seats like Moreton and Bonner, which are on a knife-edge, Green preferences can make the difference".
Labor holds only six out of 28 federal seats in Queensland, compared with the Liberals' 17 seats, the Nationals' four and one independent.
The Australian Financial Review, 9/2/2007, p. 10
Source: Erisk Net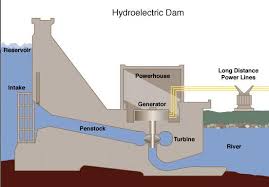 A diagram outling how electricity generating dams work