Fall in power demand 'unprecedented' says Drax
• Industry demand for power station's electricity slumps 8%
• Factory closures and fall in demand for new cars a factor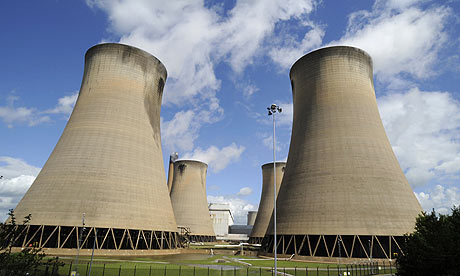 Electricity demand from British industry has fallen by an unprecedented 8% this year as factories have shut down in droves, power station operator Drax said today.
---
Household demand has also declined – by 2% – but that was due to mild weather rather than economic reasons, the company's chief executive, Dorothy Thompson, said, as she unveiled half-year results.
Overall demand for the power station's electricity fell by 6% in the first six months of 2009, compared with the same period a year earlier. The station, in Yorkshire, is the largest coal-fired power station in Europe and supplies around 7% of Britain's electricity.
Thompson said it was usual for energy demand to fluctuate in line with changes in overall economic output, but this time the drop was abnormally large. "For our sector it's a very unusual movement … in fact, unprecedented in my experience," she said.
A slump in world trade volumes in the second half of last year and a collapse in demand for things like new cars meant Britain's industry has borne the brunt of the recession. Many car plants closed for several months around the turn of the year as they tried to run down stocks of unsold cars. That also caused many parts suppliers to shut down temporarily, which could explain such a sharp drop in electricity demand.
Drax – the country's biggest carbon dioxide emitter, which burns around 100m tonnes of coal a year – said its carbon abatement projects were on track. These include an upgrading of existing turbines to increase their efficiency, the conversion of some to also burn biomass such as wood pellets, and the building of new, biomass-only plants.
It said that on completion, the biomass co-firing facility would be the largest of its type in the world. Along with Drax's existing co-firing capability, it would provide a total of 500MW of renewable electricity, or the equivalent output of over 600 wind turbines, by mid-2010. That will be equivalent to 12.5% of its total output.
The biomass co-firing facility will reduce Drax's emissions of CO2 by over 2.5m tonnes each year. With the upgrade in efficiency of the standard turbines, the station will have cut its carbon emissions by 3.5m tonnes, or 17.5%, by 2011 compared with 2006 levels.
Drax posted a sharp fall in first half earnings due to lower power prices, but said profit should rise sharply in 2010 thanks to more favourable hedging contracts for its electricity. Pretax profit fell to £33.8m in the first six months of the year from £149.5m in the same period last year after revenues declined 12% to £706.9m.