Click here to enable
desktop notifications for Gmail.   
Learn more
Hide
Recycling Fact
Recycled cans can be made into airplanes, appliances, furniture and more.
The inconvenient truth about Vanuatu
| | | | |
| --- | --- | --- | --- |
| | 8:06 PM (1 hour ago) | | |
"Sydney, Melbourne, Brisbane, Perth, Adelaide, Canberra, Newcastle and the Gold Coast have been flattened overnight – the vast majority of their populations left homeless."
NEVILLE,
Just imagine that headline. That's pretty much what's happened to Vanuatu, when category 5 Cyclone Pam bore down on the tiny island nation. It's still chaotic, but early estimates say 70 per cent of their population has been left homeless overnight, and more than 24 people have lost their lives. How would Australia rebuild and recover from that? It's impossible to even imagine – and it's not just Vanuatu. Kiribati and Tuvalu have also been devastated.
It almost goes without saying that our immediate and first thoughts, priority and responses as Australians should be to reach out to our Pacific neighbours and help them rebuild and recover in whatever large and small ways we can. In fact, many Australians are already doing that, including our government. But on its own, it's not enough – not for Vanuatu – or any other country at the frontline of the threats created by our changing climate.
If you would like to contribute, these organisations are doing great work on the ground: http://www.getup.org.au/help-vanuatu
But, we can't stop there.
It may feel uncomfortable to talk about right now, and a great many people will want to deny it, but we need to have a serious talk about climate change.
Baldwin Lonsdale, the President of Vanuatu – who knows this all too well – has already started the conversation: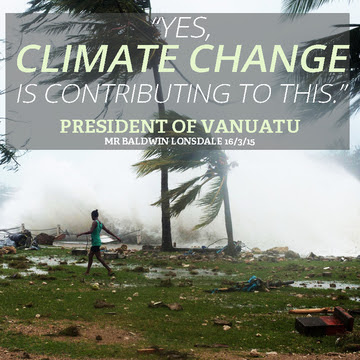 "We see the level of sea rise… The cyclone seasons, the warm, the rain, all this is affected."
The UN Secretary General has also pointed out that climate change is making extreme weather events like Cyclone Pam far more damaging. That's because sea levels have already risen – although not nearly as much as they will if we don't act – meaning more water in cyclone storm surges, which is what causes most of the damage. Low-lying pacific islands, like our neighbouring countries, are particularly vulnerable, as this week shows.
For decades, Vanuatu and other countries argued their urgent need for international help to prepare for foreseeable climate events, like Cyclone Pam. Instead of answering this call for help, last year the Abbott Government drastically cut Australia's foreign aid and scarapped legislation that was driving down our contrubtion to climate change. Not only are we contributing more to climate change, we're simultaneously contributing less to help those most affected. And when disasters like this happen, no matter how generous we are personally, we will never make up for the $8 billion cuts this Government took from people who desperately needed it.
So pick up the phone, or get online, and donate to support the organisations working tirelessly on the ground in Vanuatu right now. But – and this is important – before you put the phone down or log off your computer, why not advocate for lasting change by calling your local MP? Tell them you've donated, and that you give a damn about our foreign aid, and our policies on climate change – the bigger picture.
No doubt, some may criticise anyone who dares to make the obvious link to climate change for "politicising" this disaster. We aren't. To do everything we can to help those affected, we need to confront the elephant in the room and speak honestly. So why not start the conversation right now? Click here to contact your MP or Senator, or you could start the conversation at home as a warm up. Forward this email to your friends and family and use this as an opportunity to discuss how you intend to, personally, confront the greatest challenge of our time.
For years, every budget has seen Australian aid cut, because we don't speak out loudly when it is. For years, climate action has been delayed or wound back, because our government is playing the short, easy game instead of the critical long game. We need to change that.
Climate change is here. It is affecting Australians and our neighbours. These are not easy conversations to have, but with each and every bushfire, heatwave, flood, drought and other climate excacerbated natural disasters it's a conversation we're going to need to get better and better at having.
Hopefully, one day soon, we'll be so good at having it – and so many of us will be having it – that our government will finally put its money where our mouths are. Hopefully one day soon Australia can be a proud Pacific neighbour, joined in solidarity with our friends, as we all get on with the job of adapting to our new climate reality.
Yours in hope,
Sam and Erin for the GetUp team.
PS. In his most recent communication to 350 Pacific staff, Isso Nihmei, 350 Vanuatu Coordinator said: "Now that Cyclone Pam has left, it's like a heat wave has hit us. Climate change is bringing new extremes to Vanuatu. It's devastating us." So while you're considering what else you might do, why not consider joining a climate advocacy group in the region like 350 Pacific who work on the ground day-in and day-out with Pacific Islanders to bring awareness to the issue of climate change and its dramatic effects in the region? Click here to find out how: http://www.getup.org.au/cyclone-pam
PPS. Check out GetUp's oped on this subject published in Fairfax media today, Cyclone Pam and Vanuatu: don't just give cash, give a damn
---
GetUp is an independent, not-for-profit community campaigning group. We use new technology to empower Australians to have their say on important national issues. We receive no political party or government funding, and every campaign we run is entirely supported by voluntary donations. If you'd like to contribute to help fund GetUp's work, please donate now! To unsubscribe from GetUp, please click here. Our team acknowledges that we meet and work on the land of the Gadigal people of the Eora Nation. We wish to pay respect to their Elders – past, present and future – and acknowledge the important role all Aboriginal and Torres Strait Islander people continue to play within Australia and the GetUp community.
Authorised by Sam Mclean, Level 2, 104 Commonwealth Street, Surry Hills NSW 2010.