What you achieved last week
Shen – GetUp!

Unsubscribe

7:28 PM (15 hours ago)
NEVILLE,
We're not going to let up.
When Australia imprisons people seeking safety, locking them up on remote Pacific islands – for the second time in our history – it takes guts to keep pushing for things to change. But just last week, GetUp members showed that we have what it takes. Together, we blasted a hole in the whole torturous machine of Australia's asylum seeker policy.
Take a moment to read the story below. It's a good one, I promise. But first, let's talk about what comes next.
Broadspectrum (formerly known as Transfield Services) might have changed its name, but not its motivation. It's the corporation paid billions to run the government's offshore detention camps. After our shenanigans at last week's AGM, Broadspectrum are feeling the heat. But to change their behaviour we need to hit them where it hurts – their bottom line.
Broadspectrum happens to be a key contractor in our hospitals, schools, universities and local government. So next week we're launching a massive grassroots campaign, led by people like you, asking every council in Australia to refuse to contract with Broadspectrum and all businesses that profit from the abuse of people seeking asylum. Then, we'll demand the same of our hospitals, universities, schools, and we won't stop until Broadspectrum stops profiting from abuse.
But to make this happen, we need funds to develop and distribute activist toolboxes and media kits, and to train community campaigners . We need to link GetUp members across Australia to each other and to other organisations so we can work in tandem to demand compassion, not cruelty, towards people seeking asylum.
As we take the fight to end business in abuse to the next level, can you become a core supporter of the campaign by chipping in with a small weekly donation?
Yes, I'll become a core supporter!
What GetUp members made happen this week
On Tuesday, GetUp released the No Business in Abuse report, outlining Transfield/Broadspectrum's complicity in human rights abuses1. In case you missed it, here's the topline:
Inside Transfield's (now Broadspectrum's) detention camps there have been abuses violating a massive 47 international laws.
Horrifying, right? Thanks to GetUp members, Broadspectrum shareholders all over the country woke to find this statistic as a full-page ad in Australia's leading business newspaper – the day before their annual general meeting (AGM).
Together we put Broadspectrum's appalling human rights record front of shareholders' minds at the AGM.

Then, we put this information into the hands of shareholders as they entered the AGM. And as they met inside, GetUp members rallied outside with our allies from the Refugee Action Coalition.
And you helped make our message heard inside the AGM as well.
With your support, Mohammad Ali Baqiri, a former child detainee on Nauru, was able to fly down to the AGM, where he spoke truth to power.2
You can listen to Mohammad's story here: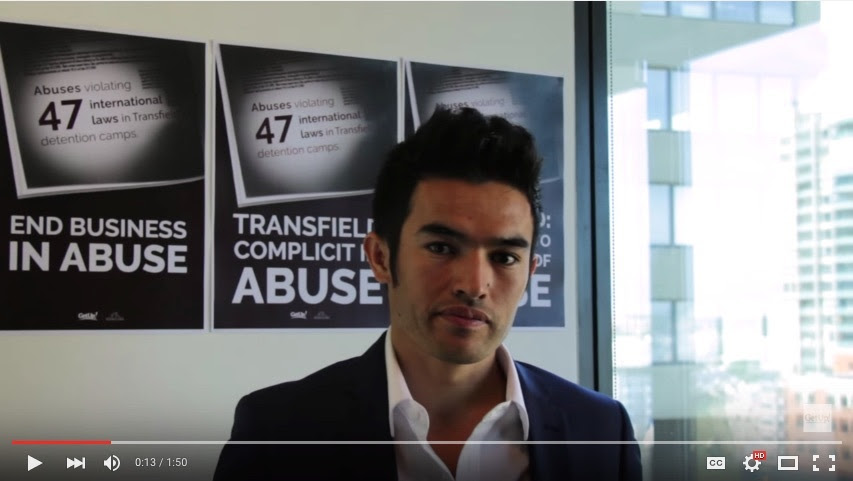 Finally, on that same day as the Broadspectrum AGM, we received word that Abyan* was being brought back to Australia.
Abyan* is the refugee who became pregnant after being raped on Nauru. She was initially brought to Australia for medical care, including an abortion – only to be sent back without treatment, having been denied counselling and an interpreter.3
Huge public outcry on her behalf – including from tens of thousands of GetUp members who called, emailed and petitioned Malcolm Turnbull – prompted a response from the government who confirmed she will now receive the medical care she so desperately needs.4
Small, regular donations from hundreds of GetUp members make it possible to do things like fly Mohammad from Melbourne to Sydney at short notice, and rapidly respond to emergency stories like Abyan's. Will become a core supporter of our refugee campaign to make sure this work can continue in the weeks and months ahead?
Yes, I'll become a core supporter!
We'll be back in touch soon with the campaign's next steps. For now, thank you so much!
Shen, Aurora and Matt for the GetUp team
*Abyan is not her real name; it is the name used by the media to protect her identity.

References
[1] "Transfield given $1.5bn over three years to manage Nauru and Manus centres", The Guardian, 27 October 2015
[2] "Transfield Services chairman Diane Smith-Gander stares down protestors", Sydney Morning Herald, 28 October 2015
[3] "Australia secretly flies pregnant refugee out of country before hearing", The Guardian, 16 October 2015
[4] 'Pregnant Somali refugee 'Abyan' to return to Australia for medical advice: Peter Dutton', Sydney Morning Herald, 29 October 2015