Click here to enable
desktop notifications for Gmail.   
Learn more
Hide
4:38 AM (3 hours ago)
Dear amazing Avaazers, this is from the heart —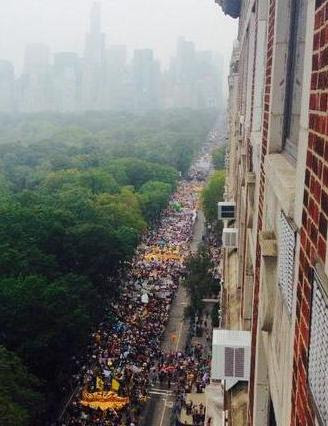 Rising to the moment in the climate march. Let's build this magic in 2015!
In myself, and in the world, I feel things are fragile, poised on the edge between deepest dreams and oldest fears.
The world hasn't seen this many refugees since world war II. The politics of fear is rising. We're decimating our planet — 95% of the mammals we've left alive are us, and the animals we breed to eat! And climate change threatens our very survival.
And yet, never has the status and power of women been greater. Never before has more than half the human race lived in democracies. And we've cut global poverty in half in the last generation, and are on track to end it in this one. Never before has our human potential been so unleashed to decide our own fate.
Maybe that's how it goes. When you're closest to your dreams, on the edge of grasping them, that's when your worst demons come. And we face a choice and challenge — to rise with our best to this fateful moment, or let it fall.
Will humanity rise? I believe it might depend partly on Avaaz. There's 40 million of us now, the largest campaigning community ever. This fall, millions of us changed the game on climate change with a profound shift in political momentum on the issue. It was magical. As inspiring as the thousands of us who put our hands up to risk our lives on the front line of the Ebola fight. And the millions of us who took action to protect our oceans and defeat a Monsanto mega-project. From politicians, media and people, I'm hearing the same thing – we're bringing hope.
And hope is exactly what our world is desperate for. It's the game changer. Hope, is how we rise.
That hope and this precious community is made possible by a tiny fraction of us who chip in to cover all of Avaaz's core costs. We only ask once per year — so if it feels right, pledge to support Avaaz in 2015 with a one-time donation, and help us all rise to this moment — we'll process your pledge only if we reach our goal of 20,000 new supporters:
Donating now enables Avaaz to plan responsibly around long term costs like our tiny but awesome staff team, our website and technology, and the security of our systems (this can get pricey when our campaigns are taking on shady characters!). It also means we have the ability to respond immediately to crises as they occur and jump on opportunities for action without delay.
If 20,000 of us pledge, that would allow our community to expand all our work next year, helping to save lives in humanitarian emergencies, protect the environment and wildlife, support democracy and fight corruption, push for peace and reduce poverty.
Donating to Avaaz has a double-impact — because our donations not only make change now by empowering particular campaigns, every contribution builds our community that will be making change for decades to come. It's an investment with both immediate and long term results for our children's and our planet's future. Click here to contribute:
Together, we've donated millions to humanitarian aid, played a key role in stalling Rupert Murdoch's march to global media domination, won dozens of national and global victories on climate change, defeated Monsanto mega-projects, won protection for vast areas of our oceans and forests, upheld the global ban on whaling and helped protect Elephants and Rhinos, supported democracy movements from Burma to Zimbabwe to Palestine to Russia, killed ACTA and other efforts to censor the internet, opposed unjust war in Iraq and violations of human rights in Guantanamo, and stood up for whistleblowers like Snowden and Manning when it mattered. In literally hundreds of victories, our community has proven to be fearless, principled and effective in seeking the world we all dream of.
But it's not enough. To meet the challenges of our time, we need to reach another level to go to toe to toe with the governments and corporations that are behind the problems we face. To win on climate change, we need to beat the oil companies, and they spend billions. To win on human rights, we need to press abusive governments, and they have enormous power. The power of 40 million committed citizens is unstoppable, but accessing that power requires a journey of trust, and commitment. I'm so excited and hopeful to take the next step on that journey with you:
Fundraising is often a problem for social change organisations. Government or corporate funding would profoundly threaten our mission. Funding from large donors also often comes with strings attached. And high-pressure tactics like telemarketing, postal mail, or direct on-the-street programmes often cost nearly as much as they raise! That's why the Avaaz model – online, people-powered donations – is the best way in the world to power an engine of social change, and a huge part of our community's promise.
If we can multiply the number of supporters we have, it will take our community, and our impact, to a whole new level. I can't wait.
Regardless of whether you pledge today, please know how grateful I and the team are for your wisdom, your commitment, and your incredible spirit of humanity. It's really a blissful thing to work for you! And together, we really, truly, can build the world we dream of.
With love, hope and gratitude,
Ricken and the whole Avaaz team
PS – In case you're mulling it over, here's 11 more reasons to donate to Avaaz 🙂
Reason 1 – What we do works
With more than 40 million members in every nation of the world, able to mobilise at a moment's notice to pressing needs and opportunities, Avaaz works –- together we've saved lives in Haiti and Burma, reversed government policies from Brazil to Japan, won victories on international treaties from banning cluster bombs to preserving oceans, and if Avaaz was a country, we'd be the 25th largest donor to Ebola emergency relief! Former UK Prime Minister Gordon Brown says of Avaaz "You have driven forward the idealism of the world … do not underestimate your impact on leaders," while the Economist says Avaaz is "poised to deliver a deafening wake up call to world leaders," and Al Gore says "Avaaz is inspiring, and has already made a difference." We're only 8 years old and growing fast, and the more our members get involved and donate, the more impact we have.
Make a pledge here.
Reason 2 – An Avaaz donation is an investment with permanent social change returns
With Avaaz, our donations fund high impact campaigns that also recruit more people. More people means more donations, and more impact. So you're not only achieving a particular change with your donation, you're helping grow a community with new members that will multiply your donation many times over, and be a permanent and ever-increasing source of change. It's a tremendous philanthropic value to have this kind of double and permanent impact.
Reason 3 – We have no bureaucracy
Avaaz is a massive network of citizens, but our organisation is absolutely tiny – just 69 full time campaigners with operational and technology support. Most large global NGOs have hundreds or even thousands of staff. Our small size means we have no time for red tape, layers of management, or being focused on anything but getting results.
Reason 4 – We're regularly audited, and fiscally responsible
There's a lot of fear out there about misuse of donated money. Most of the fear is misplaced – most organisations are filled with good people trying to do good things. With Avaaz you can be sure – partly because we're required by law to be audited every 12 months. This audit thoroughly checks every aspect of our books and financial practices. We've been audited 8 times since we launched and every time been given a squeaky clean bill of health (for details, click here).
Reason 5 – We have a world-class team that does outstanding work
Campaigning, advocacy and social change are a serious and demanding business – the more competent the team, the more impact our donations have. Avaaz attracts some of the best campaigners and advocates in the world. Many of our Campaign Directors joined us after being CEOs of successful advocacy organisations, and most have degrees from the top universities in the world.
Make a pledge here.
Reason 6 – We're 100% independent
Avaaz takes absolutely no money from governments or corporations. This is hugely important to ensuring that our voice is exclusively determined by the values of our members, and not by any large funder or agenda. While we received initial seed grants from partner organisations and charitable organisations, 100% of the Avaaz budget now comes from small online donations. This means that the only agenda we have to follow is the people's agenda.
Reason 7 – We pass the money on when it makes sense, and give to the best efforts
Avaaz has donated nearly $10 million to other organisations, because we saw them as better placed than us to have impact on a particular issue. For example, we've granted $2 million to Ebola frontline organisations, $1 million to a top rainforest conservation group, $1.6 million to Burmese monks and aid groups, $1.3 million to Haitian aid organisations (see this video from the groups that received our donations), and more than $1 million to relief organisations in Pakistan. The way we support organisations is important too. Most foundations have endless process and constraints that make them slow, bureaucratic and risk averse in supporting advocacy. Avaaz finds the best people and organisations and doesn't micromanage them — we just empower them to do what they know best.
Reason 8 – We're political (this really matters)
Most charities offer tax deductibility for donations. But this means that they are, in a way, partially taxpayer funded, and governments use that to place a very thick set of rules on what they can and can't do. Chief among them is restricting what they can say to criticize, support, or oppose a politician. Avaaz is very rare in that our donations are not tax deductible, leaving us 100% free to say and do whatever we need to to get leaders to listen to people. Since so many important issues are won and lost in the political realm, this makes us much more effective than advocacy groups that shy away from speaking out politically.
Reason 9 – We go where the greatest needs and opportunities are
Most organisations focus on a single issue over a long period of time. This is very important to do, but that can mean that when desperate needs or amazing opportunities for social change arise, they get ignored because everyone is working on their own issue. Avaaz campaigns target the most urgent needs and opportunities, showing up just when a powerful burst of citizens' attention is needed most. We work continuously with top quality partners in the areas we campaign on, and all describe Avaaz as an amazing added value to their work.
Make a pledge here.
Reason 10 – Democratic accountability is hard-wired into our model
The Avaaz model of campaigning is people-powered. Our priorities are set at annual and weekly levels by polls of our membership and every campaign we run is first polled with members. No matter how much work we put into developing a campaign, if it fails to get the greenlight from members, we don't run it. So on a day to day basis, how we spend the donations we receive is determined directly by members.
Reason 11 – There's no other organisation like us
Avaaz is the world's first and only massive, high-tech, people-powered, multi-issue, genuinely global advocacy organisation. In a world where the problems we face are consistently global, and the solutions to them increasingly require global, democratic action, Avaaz is uniquely placed to effect change. No other organisation can rapidly mobilise large-scale, coordinated democratic pressure in over 194 countries within 24 hours. A new model of internet-based, people-powered politics has changed politics in several countries, and Avaaz is taking that proven model global. The result is already the largest global online movement in history, and we're just getting started.

Avaaz.org is a 40-million-person global campaign network that works to ensure that the views and values of the world's people shape global decision-making. ("Avaaz" means "voice" or "song" in many languages.) Avaaz members live in every nation of the world; our team is spread across 18 countries on 6 continents and operates in 17 languages. Learn about some of Avaaz's biggest campaigns here, or follow us on Facebook or Twitter.